Algorithmic Composition, 2015
Workshop
Software: Max Msp, Max Jitter
Instructor: Tobias Reber, Luis Sanz
Dates: April 20 - 23, 2015
Location: GS15, 8045 Zürich
Experience level: Beginner

The workshop focuses on the creation of computer generated artwork that is algorithmically determined.
Using a computer program to set a visual system which can be set in motion with some degree of autonomy contributing to or resulting in a complete work of art. This means that the participants are no longer going to focus on creating a unique work of art but a process of creation that can generate many variations on the same system on the same set of algorithms. There are various definitions of algorithm depending on their context but for this case we defined as a list of instructions for solving a problem.
Participants will learn the basics to build their own autonomous system based on probability and randomness.
Fierst Day
Introduction to visual elements in 2D and 3D, participants will build their own visual scene.
Second Day
Introduction to probability and randomness, participants will set their visual scene in motion with some degree of autonomy.
Third Day
Practical day, each participant develops their own visual system.
Focus: This workshop is dedicated to anyone interested in new technologies as artistic tools, interaction designer, graphics designer, musicians, media artist, VJ's and in general for people interested in visual arts. It's not any background knowledge.
Requirements: Laptop or desktop computer with successfully installed software Max Msp [trial version is 30 days free and full functional]
download link: https://cycling74.com

Workshop instructors
Luis Sanz (Ilo, PE) is an installation artist and musician living in Switzerland. Sanz's installation and performance works combine vocal techniques, body language, audio visual instruments, feedback systems and free improvisation. By playing with the limits of these tools, Sanz aims to commit acts of violence against passivity and therefore to confront domesticated signals in the everyday life. Sanz's works seek to open a dimension where to generate a new sensorial space in the register of acoustic, visual and tactile perceptions in order to break the boundaries of accepted reality. More about Luis Sanz on luissanz.ch.
Tobias Reber (CH) is a musician, composer, performance artist and teacher with a body of work ranging from electronic, electroacoustic and algorithmic composition to free improvisation, intermedia performance and sound installations. More about Tobias Reber on tobiasreber.com.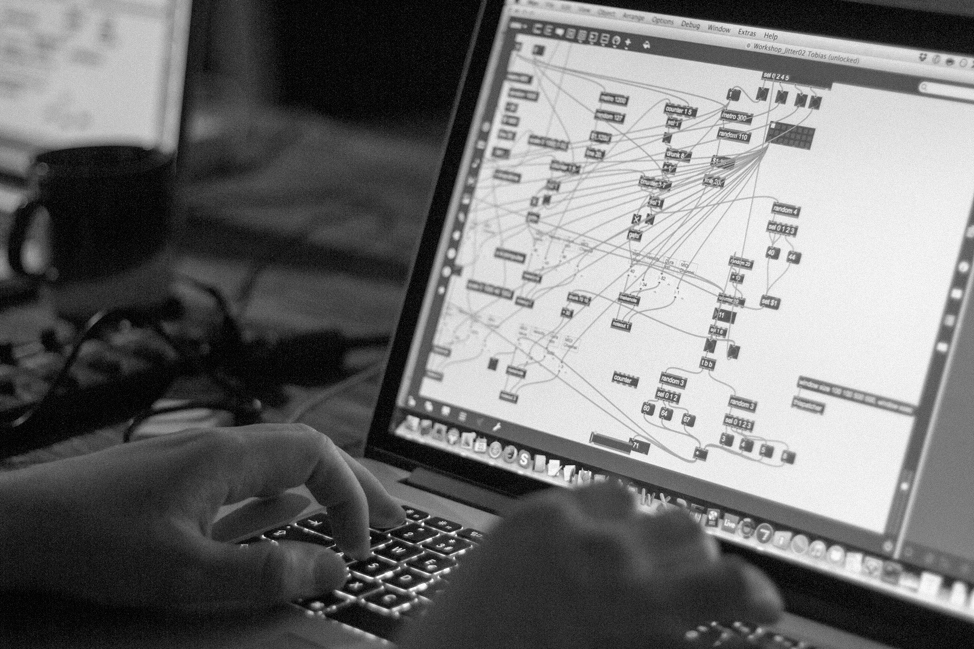 workshop w/ Tobias Reber as part of "Taktung Festival" 20 - 23.04.2015 Zurich Switzerland

Generative geometry, Workshop outcomes "Taktung Festival" 20 - 23.04.2015 Zurich Switzerland
Generative geometry, Workshop outcomes "Taktung Festival" 20 - 23.04.2015 Zurich Switzerland